THE HUNTSMAN REVERE Combo (whilst stocks last, promo ends 30th November 2022)
1 x Huntsman 40ft lbs
1 x MTC optics Viper Pro 10x44
1 x set dovetail high mounts 
1 x 0db 160mm silencer
1 x Magazine
1 x fill probe
1/8bsp nipple and washer not included 
40 Ft/lbs (849 fps with 25.4grain)
 THE ICONIC HUNTSMAN UPGRADED
With classic sporter looks, sleek design and a lineage that can be traced back to the inception of the company, Daystate's Huntsman series is one of the most iconic lines the airgun world. Often copied, but never bettered, the Huntsman remains one of Daystate's best-selling models.  Now, though, with the sidelever Revere model and the option of a truly ambidextrous Safari Edition the Huntsman has got even better!
SPECIFICATION
| | |
| --- | --- |
|   | Huntsman Revere (Export Version) |
| Overall Length | 928mm (36.5 ins) |
| Barrel Length | 430 mm (17 ins) |
| Cylinder Capacity | 162 cc |
| Weight (Unscoped) | 2.9 kg (6.39 lbs) |
| Available Calibres | .22 (5.5 mm) |
| Loading | Magazine or Single Shot Tray |
| Cocking | Sidelever (with mechanical slingshot hammer system) |
| Magazine | 11-Shot .22 |
| Fill Pressure | 250 BAR (3,626 psi) |
|   |   |
| Power / Shots Per Charge 0.22 | 21 Shots @ 40 ft/lbs |
|   |   |
| Trigger | Two-stage mechanical release. Adjustable for weight and length of stage |
| Safety | Manual, rotary trigger block lever |
| Stock | Right handed Walnut sporter |
| Options | Upgrade stock, left-hand stock (sidelever set to left), 0dB Silencer |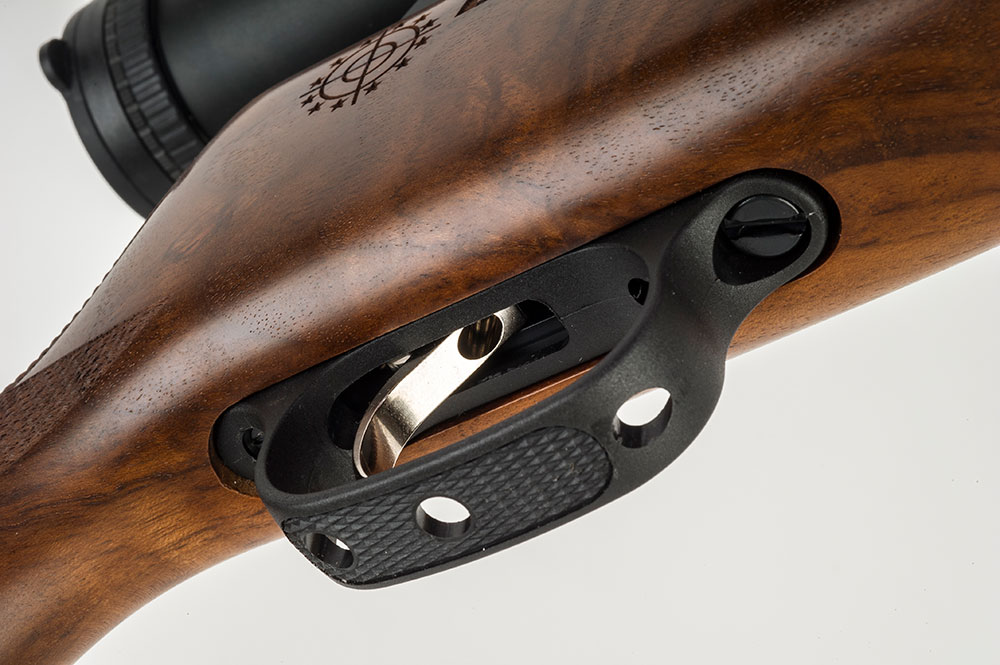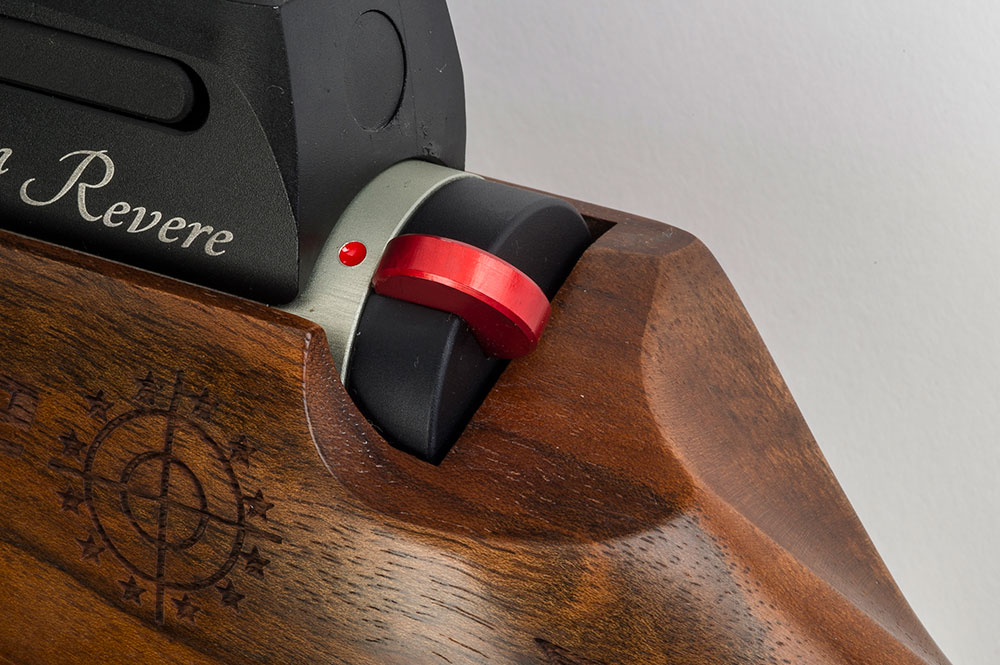 FEATURES AND SPECIFICATIONS OF THE HUNTSMAN REVERE AIR RIFLE
There has been a Huntsman in the Daystate range since the start of the company over 40 years ago, and while it's style of a sleek sporter is common across the years, each of the seven distinct versions brings with it another progression in this time-honoured line-up.
The Huntsman Revere is the first Huntsman to have a sidelever action.  Sidelever actions are especially popular with shooters of higher-powered air rifles because the system greatly reduces cocking effort. Further developments of the Huntsman's hammer and valve system, along with the inclusion of a HUMA-Air Regulator, move the rifle into modern target rifle levels of performance. The Revere offers up to 40 ft/lbs of muzzle energy.
HUNTSMAN REVERE – SAFARI EDITION
The Safari Edition features Daystate's tactile, raised-grain wood stock. Ambidextrous and incorporating a lower-seated action that's been a hallmark of the Huntsman's design for years, the 'high-grip' advantages the textured Safari stock brings are further enhanced by stippled panels to the grip and forend. Combined with its natural camouflage look, it has all the perfect attributes for the field.
However, the Safari Edition's stock has been subtly tweaked to also accommodate the needs of target shooters, without compromising the Revere's inherent sporter feel. A rise-and-fall cheekpiece allows perfect eye alignment for both varmint and target-styled scopes – and its comb is finished in a soft-feel rubber for extreme comfort in all conditions and shooting disciplines.
The Safari stock's forend has been shaped to suit all holds and disciplines, too, with a broader shape and flatter base to assist those preferring to shoot off a bench. Its weight-relieved construction will appeal to hunters with large permissions to trek across, though stud-points have been incorporated for those who want to fit a sling, bipod or other shooting aid. The scalloped butt is as practical as it is aesthetic, ensuring good balance in the shoulder for hunters, and making the ideal anchor if shooting off a benchrest or bean bag.
AND THERE IS MORE
Additionally, the Revere sports a breech and an action optimised to work with an revised gate-loading self-indexing magazine system, which itself sports an even greater payload in .177 and .22 calibres. And included in the Revere package is Daystate's latest single-shot loading tray for those not after the speedy re-loads offered by a magazine.
Of course, standing alongside the Revere model are all the features that have made the Huntsman the benchmark of PCP sporter design. Features like a shrouded match-grade barrel– two-stage adjustable trigger and its magnificent sporter stock that cradles a lower-seated action to maximise handling.
In walnut, in right or left handed stocks or with the new ambidextrous Safari stock, the Daystate Huntsman Revere remains the air rifle to be seen with.